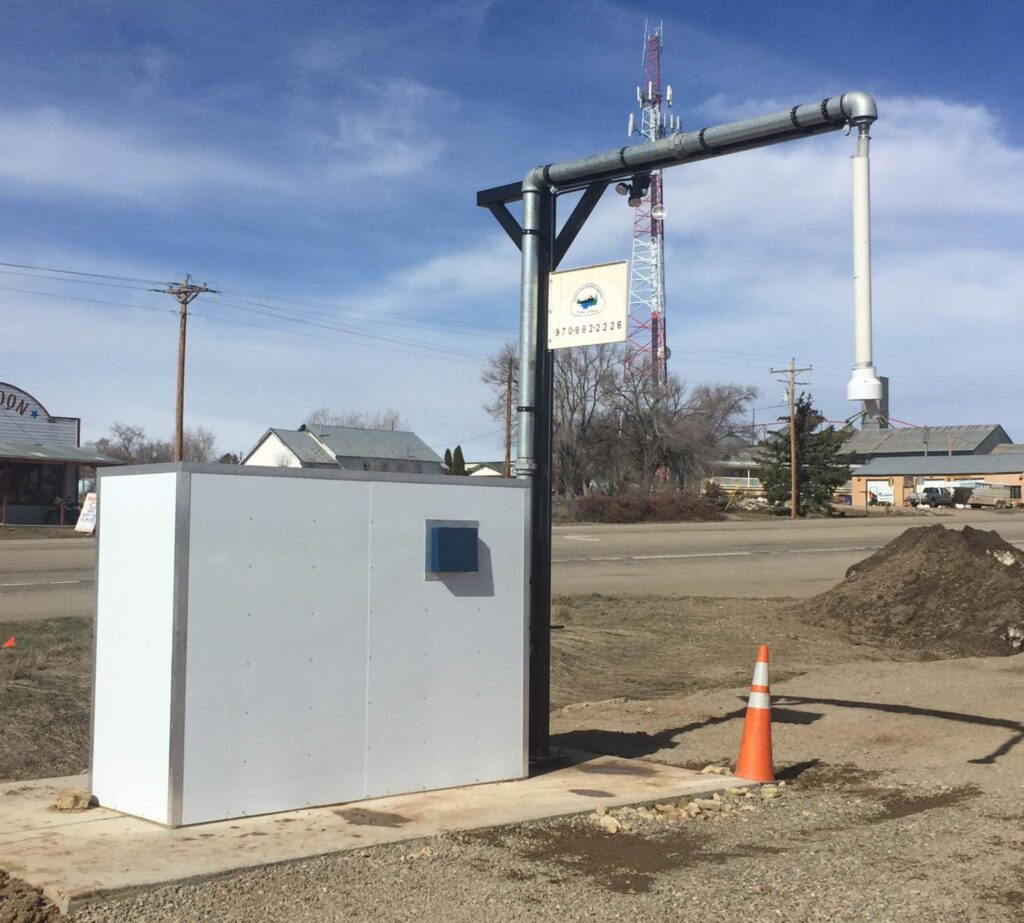 WATER DOCK INSTRUCTIONS
1. Place prepaid Montezuma Water Company water card on the control panel.
2. Enter Pin.
3. Select desired option.
4. You can press the green button to start the flow of water then press the red button to stop it. The yellow button will pause the flow of water without completing the transaction. You can then press the green button to continue.
5. You can also request a specific number of gallons and the system will shut off automatically.
6. Your card will only be charged for the actual amount of gallons discharged, which may vary slightly from the amount requested.
7. The card must be on the control panel to complete the transaction, otherwise your card will be erased and no amount will be left on it.
PREPAID WATER CARDS CAN BE OBTAINED FROM MONTEZUMA WATER COMPANY OFFICE AT 28024 Rd T, DOLORES, COLORADO DURING BUSINESS HOURS;
SEPTEMBER TO MAY
8:00 AM TO 5:00 PM MON-FRI
MAY TO AUGUST
 7:30 AM TO 5:30 PM MON-THUR
WATER CARD USER'S AGREEMENT
Use of the card
The Montezuma Water Company Water Card can only be used for the purpose of obtaining water for the Company owned water dock. Once funds are place on the card they cannot be refunded.
Damaged cards
If a card is damaged it can be replace by purchasing a new card at Montezuma Water Company office for the price of a new card. Any remaining balance on the damaged card can be transferred to the new card after the correct balance is verified, which could take up to four weeks.
Lost or stolen cards
Lost or stolen cards cannot be recovered. Therefore you should treat the card as cash and keep in a secure location.
Forgotten PIN's
The user can change their PIN at any time but must know the old PIN to change it. If the PIN is forgotten it can only be reset at the Company office by the Company Manager and only upon verification of ownership. Upon purchasing the card, the user is asked to provide a phone number that can be used to verify their ownership. Upon providing that information the Manager can then reset the card's PIN.
Purchase of the card
Cards can only be purchased during business hours at the Montezuma Water Company office located at 28024 Rd T. in Dolores, Colorado. There is a $5.00 fee for the purchase of the card. This amount and any amount that the user wishes to put on the card are to be collected at the time of purchase. Any dollar amount can be placed on the card up to $1,000.
Adding funds to the card
Funds can be added only at the Montezuma Water Company office in Dolores during office hours. Any amount can be added and the user must bring the card with him/her.